On April 20th, 2019, Dean performed along with MISO, Rad Museum, Tabber and the dj/producer DAE HEE, all members of the collective you.will.knovv, on the Parisian stage of the Bataclan – Back to an event driven by the passions!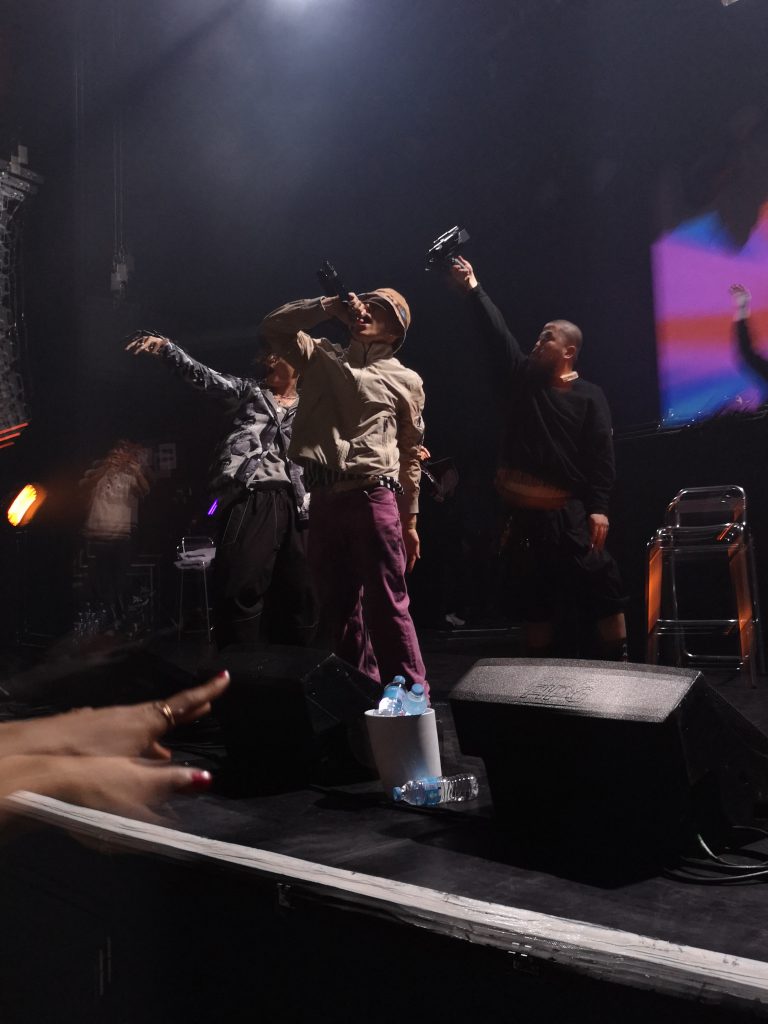 It was to everybody's great surprise that Dean announced on the social Networks in March that he was going to come to Paris in April for the Capsule Show THE DIE IS CASTTT alongside the members of the collective you.will.knovv MISO, Rad Museum, Tabber, and the dj/producer DAE HEE
It seems that you.will.knovv is an artist collective founded over 2017. Dean would be its founder and TABBER, DAE HEE, MISO, 2xxx! and Rad Museum would hence be parts of it like the stylist aw__Boy, the photograph, and graphic designer Entf. + Nun but also the beatmakers/producers zinn, No Identity, and marldn. Rad Museum's Scene or 2xxx!'s Life albums have both been released under you.will.knovv so the line between the label and the collective is kind of blurred.
But let's go back to the concert. Things actually did not start out on the good foot. A seemingly endless waiting time at the venue entrance and a concert that began one hour and a half late inevitably irritated the public. An irritation even more fuelled by the various rumors one might have heard here and there. Artists said to be late, the first part of MISO, Rad Museum and Tabber which was going to be canceled and I could go on… Ultimately and from different sources, it turns out that the artists were truly present at the venue earlier that day in order to rehearse but that they, unfortunately, had to face some problems which were out of their control…
Besides that, we actually had a show of one hour and a half which is pretty much the norm in comparison to other international artists but also and above all, we saw all the you.will.knovv members.
MISO: An artist with a unique and touching universe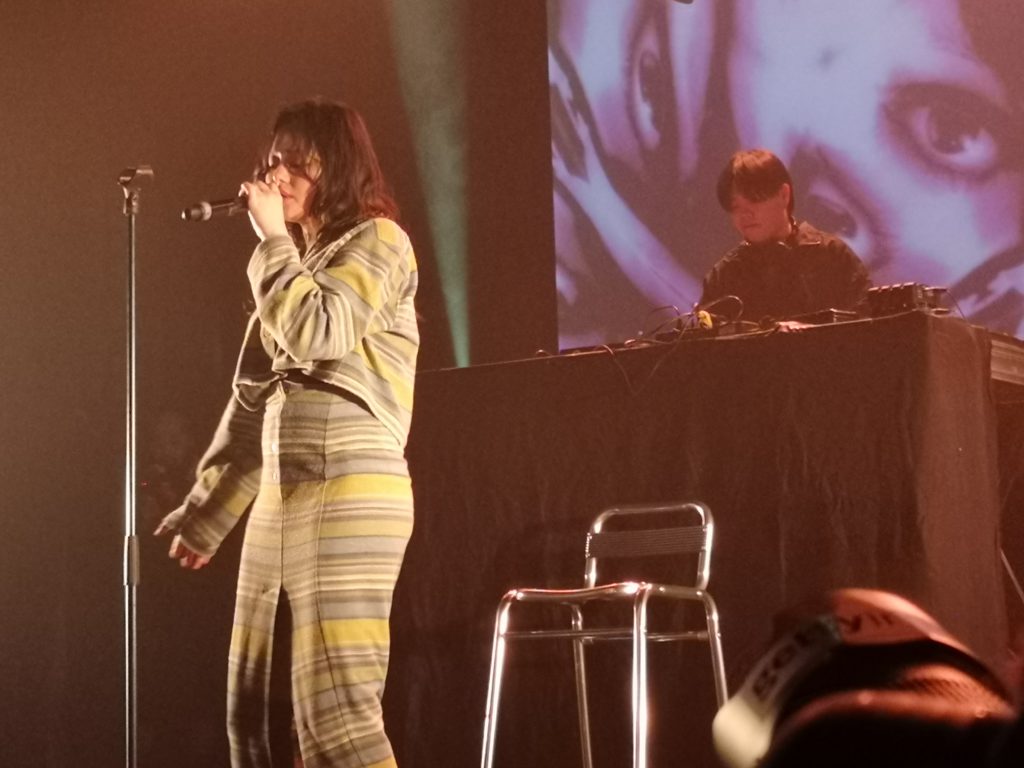 Finally it's MISO who started this night accompanied by DAE HEE who mixed during the whole show by the way. MISO is a very talented artist who made a name for herself in singing as well as in production/composition or in the visual direction.
She had a really personal universe, both intimate and muted, a tad melancholic maybe and pretty much experimental, but she above all has a really touching presence that people could notice during this concert. From what I could recall, this night she played her tracks Lost, Blinded, Take Me, O.B.E and Crush's Castaway from his EP Interlude. And yes, one can definitely say that through her soft and deep voice the artist managed to share her emotions with the public, she managed to give an even more intense meaning to these tracks.
There has been flaws maybe, but once again it was beyond her control, her mic was probably badly balanced, like the volume of her mic was a little bit too low on her first two tracks which was quite a shame for the public who therefore could not fully appreciate all the richness of the singer's voice.
One thing is yet for sure, it's that the artist knew how to appease the public of the Bataclan. She then left the stage to Rad Museum who gave us a performance from another genre but an as much intense one nonetheless.
Rad Museum: an artist who is living his music
Rad Museum was one of those artists I was really curious to see live. If the multi-faceted artist has only one album to his name, he managed through Scene and the projects he participated in to bring both rich and complex artistic universe into being, to convey his own interpretation of the human emotions.
But Rad Museum is also an artist one could consider as quite reserved. There is not much information about the artist from CLUBESK*MO and you.will.knovv so it was not necessarily obvious to anticipate his performance.
And well, what can I say, the artist was maybe a little bit withdrawn at first, or at least he seemed almost drawn by his music and it was all the more understandable that he started by performing his famous track Dancing In The Rain.
Dancing In The Rain is probably one of the most intense track of his album Scene. A song with an indescribable and mysterious atmosphere and an open interpretation. The story of a moment of trance the time of a rain shower. In this way, it was quite another experience to listen to Rad Museum singing the lyrics of this song live. It's really something else to listen to his voice paired up with the guitar chords, and the effects of the lights but also the projections in the background only contributed to heighten the immersion.
However, from his album Scene, Rad Museum did not only play this track. He in fact played almost the whole project except for Cloud in collaboration with Colde, punchnello, and MISO. So he performed Over The Fence and Woman which are on a rather soft and dreamlike register and then gained in intensity with Birthday and Madkid. His interactions with the audience increased a lot during these two songs, he incited the public, shared actions with them.
True to himself, Dean also did us the surprise to join his friend on stage for these two tracks. He was just here to enjoy the music, not aiming to show off. It was just a moment of appreciation from one artist to another.
Dean : A performance full of surprises
Setlist:
Put my hands on you
Where
Love
Won't live here (Reprise de Daniel Caesar)
Like a Star (cover de Corinne Bailey Rae)
Bermuda Triangle
instagram
Tiny Little Boy
dayfly
Tabber
Fanxy Child
(But also 21, I'm not Sorry, Pour Up and D (Half Moon), but I didn't recall the whole order so if someone has it ~)
It's with his collaboration with the RnB/Soul artist Anderson .Paak that Dean started. He finally not played that much tracks from his album 130 Mood : TRBL, 3 out of 7, that is to say, 21, Pour Up initially with Zico and D (Half Moon) with Gaeko from Dynamic Duo.
On the other hand, he played a lot of his collaborations. I'm not sorry with Eric Bellinger, Love with Syd from the group The Internet, Where produced by Zico and Dean for Killagramz during Show Me The Money 6, or even Fanxy Child, which as the name suggests it gather in principle the crew members, that is to say Zico, Crush, Penomeco and obviously Dean but he also did a part of Bermuda Triangle originally with Crush and Zico too.
The singer also surprised us with a cover of Corinne Bailey Rae's iconic song Like a Star.
But where the artist left everybody speechless, it's when the public suddenly saw Daniel Caesar joining Dean on the stage and that together they covered the single Won't live here from the Canadian singer. Released in 2016, this track is originally five minutes long and can be decomposed into two parts. Hence, this is this second part they performed together, replacing at the same time the piano from the original version by an acoustic guitar.
In a few words, the chemistry between the two artists was really touching, the respect they hold for each other was perceptible. Then Daniel Caesar stayed for the whole show with some friends by the way. We could see him on the side of the backstage.
Later this night he also played his track instagram.
Rad Museum also came back on stage and together they played Tiny Little Boy and then dayfly their latest collaboration together.
But rather than to conclude the song like in the original version, the artist Tabber surprised us by joining them and performed an extract of one of his coming projects.
It seems that TABBER has not yet released any personal project but you might have already heard him on Boiling Point from punchnello's album ordinary. alongside Simon Dominic or on 1 missed call from the Birmingham producer ROMderful's album Press L to Continue where Dean is also present.
One thing is yet for sure, it's that the artist already has a really good stage presence and that his deep voice, even solemn in some ways, stands out a lot. Really nice to discover him better in those conditions!
As a consequence, the passion of these artists was really perceptible. Dean was really giving a lot, playing as usual along with the audience and even posing a little bit. He already expressed in some interviews his passion for the stage and this is something one can really feel in his concert!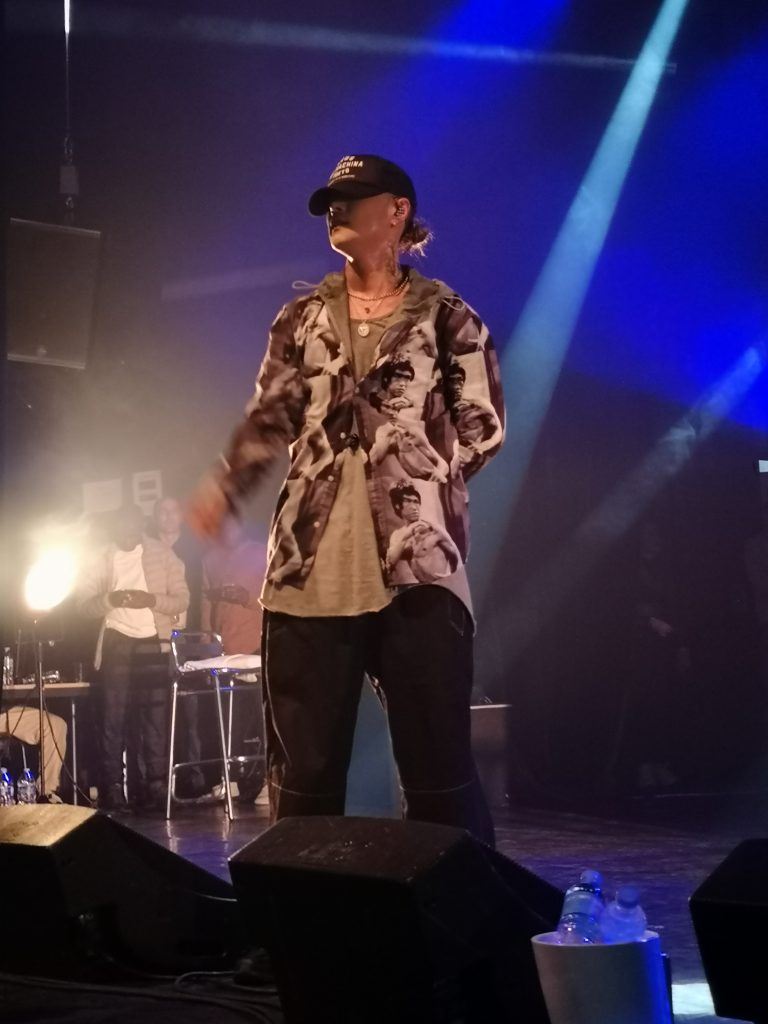 I might level criticism about two things though. First the structure of the setlist. The transition of the atmosphere from one song to the other was maybe a little bit clumsy sometimes which can be pretty unsettling for the public who was fortunately really receptive here. But that's maybe only my own impression. But there is also the end of the concert I found a little bit too abrupt. He admittedly did an encore with Fanxy Child but I don't know, the rupture was maybe too sharp?  
This is not going to spoil my memory of this concert which was really awesome though! All the performances were really well bound. MISO and Rad Museum were not only a first part as we might have heard a lot. There were not waiting time between the performances, it was really dynamic. It was not merely a concert of Dean but a real show of the collective you.will.knovv. There was a real cohesion between them!
And well, it's always great to have the possibility to witness talented but above all passionate artists. All the artists of the collective are really exuding this passion and it's all the more promising for the future ~